A seed to sale system is a software program that tracks the production and distribution of cannabis or its derivative products, from the time they are planted as seeds until they are sold. A cannabis seed to sale system's main purpose is to provide a unique identifier for each product, which allows it to be tracked at every step in the supply chain: from cultivation by the grower, through processing by the manufacturer, to delivery and sale to customers by retailers.
Designed to make Canna Businesses Better
Leave sticky notes and spreadsheets in the past. Plan crops, track expenses and maximize yields with our tech technology platform.

Our mission is to provide a simple, efficient and reliable technology platform that helps cannabis businesses succeed.

Cultivation
With our software, grow operators can track their plants, manage their inventory, and sell their harvest.
From the 100 plant crafter to the 20,000 + industry leader, Nugistics is a fully realized cultivation software capable of supporting a grower from in the dirt to out the door.

Manufacturing
With our software, manufacturers can track inventory, run reports, and analyze business data.
By simplifying the data entry process and reducing errors in production, bakers, chemists, and infusion specialists can focus on their craft.
We've created the industry's most powerful seed-to-sale software solution that provides a complete suite of integrated tools to manage your business needs while staying compliant with state regulations. Seed-to-sale tracking is an essential requirement in the cannabis industry. States require strict controls over the entire lifecycle of cannabis products from cultivation through sale to consumers. Failure to comply with these regulations can result in costly fines or even criminal charges for business owners.


The primary benefit of a seed to sale system is that it makes it possible for regulatory authorities and law enforcement agencies to monitor the movement of cannabis products throughout the supply chain. This ensures compliance with state laws and regulations. It also provides companies with accurate data about their products, so that they can make better decisions regarding product development and marketing.
Seed-to-Sale Process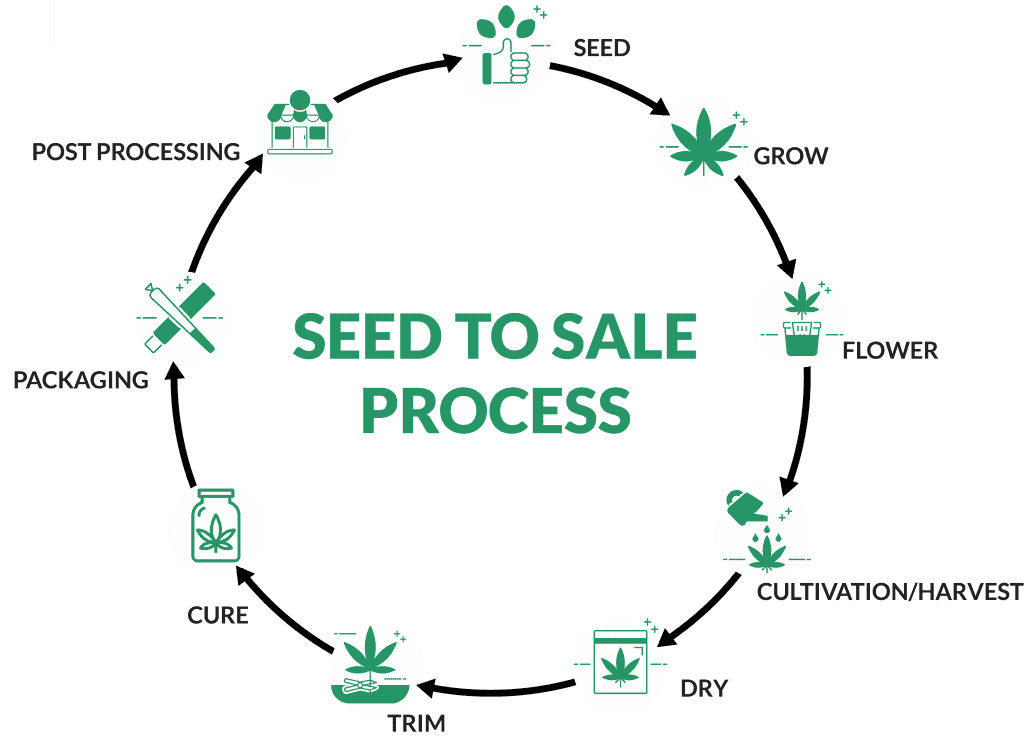 The seed-to-sale process is a term used to describe all of the steps in growing and distributing cannabis from sprouting seeds to selling products to consumers.
Seeding
Whether it's from a seed or a clone, growing cannabis comes with a variety of advantages and disadvantages. Clones are consistent and the gender is always known, given a similar environment to their parent strain they will produce the same amount of product. Seeded plants maintain their tap roots, allowing them to grow stronger and faster but have a greater potential to grow into males, destroying an entire operation overnight.
Growing
An effective and methodical grow stage is critical to any successful cannabis operation. Maintaining proper nutrients, lighting, oxygen levels, CO2 levels, and water levels through the vegetation stage along with battling pest and overgrowth can truly mean the difference. Without proper upkeep, newly developed plants can quickly die, while older plant are still susceptible to these same challenges, they're far more resilient to stressors. Careful maintenance can ensure plants stay stress free, allowing them to grow to their maximum potential and prevent any chance of a sex change.
Flowering
The flowering stage of a cannabis plant can easily be the most hectic, it's important that the plants are carefully transitioned into their new nutrient set overtime. A single overnight switch has the potential to jeopardize all of the hard work that's been poured into these plants over the last few months. Ensure the plants are properly supported as they stretch and that they are receiving appropriate lighting to maximize growth. After a few weeks of stretching the plants will have fully transitioned into budding, becoming thicker and significantly taller.
Harvesting/Cultivation
In the closing weeks before harvest the buds should be nearly completed, milky white trichomes, a pungent odor, and darkening/amber hairs are great signs that all of your hard work is nearly ready to pay off. Consider flushing the plants of all of the added nutrients in the final two weeks to avoid any harsh chemical tastes, giving your plants flavors an opportunity to shine. It's generally recommended that you keep you plants in a dark room just prior to harvest to protect your trichomes THC.
Drying
Drying can make or break your harvest, which is why precision and patience are key in this stage. A solid week of drying in a pitch-black room with effective circulation and humidity control are always components of best practices. When the bud itself is dry and the stems can bend or pop without breaking, that's why you know it's time to move onto the next step. Consider Bud Washing if you've been using pesticides or are growing outdoor to clear off any unwanted flavors.
Trim
Everyone's favorite chore, trimming your plants can be a tedious and rewarding process. Whether it's a dry trim or a wet trim, this processing stage will set the visual tone of your plants. Wet trimming is done directly after harvest before the drying stage, this can allow for an easier time trimming as the sugar leaves have yet to curl back into the plant. Wet trimmed plants generally dry faster and with the
Curing
From the moment you harvest your plants, they begin to break down. A proper cure can prevent cannabinoids and terpenes from breaking down into less favorable compounds. Immediately after trimming the buds should be placed into sealed containers or bag and kept in a cool dark room. Burping containers while monitoring humidity are essential practices to preventing mold and preserving taste. Humidity packs are available from a wide variety of vendors that will allow control over the bud's environment. While burping containers, be aware of the smell within the first few days, this
Packaging
Deciding how to package your product ultimately decides whether the product will leave the shelf or not. The packaging step includes sorting out the flowers and deciding which are suitable enough to be sold as bud on the shelf or sent for post processing such as extraction or joint rolling.
Post Processing
All those trimmings and buds that did not make it to the shelf should not be thrown away. They can become other useful products that can still be sold to consumers. Trimmings can be filtered with ice cold water to create bubble hash. Leftover buds can be used to make pre-rolled joints or pressed to create waxes, shatter, etc.
Simplifying the Process
Seed to sale software helps everyone involved in each of the above processes. With this software, the process is more simplified, and there is a clear goal for each step. Since different plant byproducts, for example, have varying weights and quality, seed to sale software can ensure that there are multiple data collection points throughout the entire process. It also helps ensure compliance with all laws and safety measures and keeps a detailed record of purchases for reporting and compliance with state and local laws. Ultimately, fines can be avoided, and proper conversion rates are established. The supply chain for all cannabis products from their conception to reaching the hands of the customer and dispensary are tracked and traced with this seed to sale system and software.
The Future of Seed to Sale Systems for the Marijuana Industry
It is never easy to predict how this kind of technology is going to evolve as we step into the future, but there is already a significantly positive impact being made. It offers transparency in an industry that is often under scrutiny, so seed to sale platforms can help immensely as the cannabis industry continues to grow.
---
The cannabis industry has been taking off, but it is still in its younger years. Canada introduced legal medical cannabis in 2001, and over the last two decades, the industry has continued to evolve.
While it started out with a few smaller operations, this industry is now growing into a highly regulated operation that includes many major players.
What Does Seed to Sale Mean?
When we talk about seed to sale, we are referring to the entire production chain of a cannabis company. They start by planting the seeds on their farms, they grow the plants, harvest those plants, process everything, and then package it before it goes to the customer. Some cannabis companies handle the entire inventory management process from start to finish or as we say, seed to sale. When doing this, extensive tracking systems are required due to different legislation and regulatory compliance enforcement.
The Government's Need for Seed to Sale Tracking
With the regulations involved in this industry, the government needs state and local governments to help enforce these regulations. They also collect taxes and prevent illegal cannabis diversion and inversion. Seed to sale software is an effective way to track and trace all legal cannabis throughout the entire lifecycle of the product. Without it, there would be no level of traceability, and many state and local governments wouldn't feel as comfortable having the cannabis within their jurisdiction.
Process of Compliance
Typically, there are seven stages of the seed to sale lifecycle, but this may vary based on the tracking software being used within the industry. We have a breakdown of these stages below to give you a better idea about the process of compliance regarding a seed to sale system.
Cultivation
Each plant is typically assigned a barcode or other signature marker that is unique. With this identifier, information on the plant phases is recorded and then archived by the growers. This helps ensure accountability and regulation adherence during the maturation phase of the plant's life.
Harvest
Cannabis components are also batched by material type. This also requires an identifier and includes prepackaged good and derivatives including any oil concentrates. Most seed to sale platforms have this kind of barcode or other signature marker and this is what is scanned at every point in the process.
Testing
Cannabis is also tested for chemicals and contaminants as well as any other additives that can prove to be harmful. This testing is done before the cannabis makes it to the consumer. The potency is also typically tested and then is printed on product labels.
Transportation
Detailed manifests concerning the transportation of cannabis products are required. This manifest should include specific details regarding the origin of the shipment, the quantity, the destination, and it should also include the driver's credentials. These reports are then made available for all law enforcement for real-time tracking.
Point-of-Sale
Each product is linked back to the origin of the plant as well as what sales are tracked to what patients or customers. This is also known as the chain of custody. Audit trails are another important feature because this is how a distributer can easily supply proof that they are in compliance.
Patient Identification
Every patient also receives a unique ID number as well, and limitations are placed and validated in real-time with this information
Real-Time Data
All of the information captured during this tracking process is secure and available online where you can find detailed analytics that are available to both regulatory agencies as well as law enforcement.
This helps ensure compliance while also showing that the cultivator is adhering to all industry standards, state laws, and regulations.
Remember, it is important to stay up to date with the latest cannabis compliance laws in your state. Each state is different, so learn the laws for your particular state.
Inventory Management
This is another crucial step in the seed to sale process. Not only does inventory management and inventory control help maintain profitability, it also greatly helps improve the security of the operation. Marijuana inventory that goes missing at any time is definitely a problem this system helps avoid. Now, let's take a closer look at the seed to sale system on the cultivator's end and how it works. Below, we have broken down each phase of the system to give you a better idea.